🔍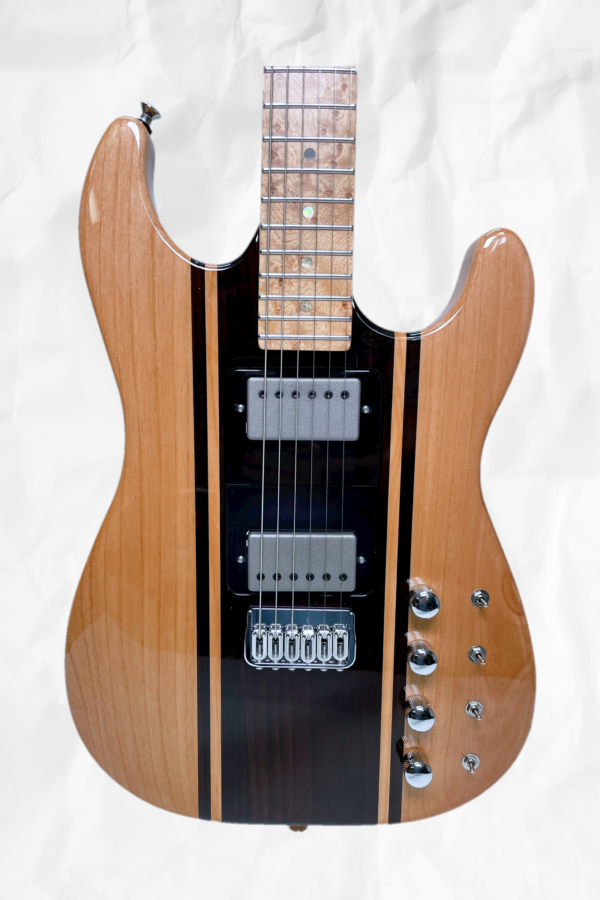 Tone Blender Guitar
$3,495.00 – $3,765.00
Our Tone Blender model features the classic S-style cutaway body.
Please note: Racing stripes not available on Black models.
Add to wishlist
Description
Our Tone Blender model features the classic S-style cutaway body but with a specialty set of controls. You still get all of our interchangeable pickup functionality but instead of a pickup selector switch, three volume controls allow you to dial each pickup into the mix individually. This means you can run any two or three pickups together, but instead of all running at 100% you can adjust how much each one blends into the mix. Quite simply, you can fine-tune your tone like never before!
Each volume pot is a push-pull to select 500k or 250k for matching it to humbucker or single coil pickups. If you split a humbucker with the mini toggle switch then you can switch the pot to match. The mini toggle doesn't just split the pickup, it is a 3-position switch so you can select the North Coil, the South Coil, and of course normal humbucker mode. If you snap in a Fishman Fluence pickup then this same toggle switch lets you select Voice 1, 2 or 3. You an even run an active Fishman in one position and a passive pickup in the other, and blend them both together.
The tone pot is also a push-pull with two different capacitors to select: .022uf or .047uf. These caps are filters and bleed off different amounts of your high tones so you can find which tone position works best with any given pickup or pickup combo. You can disable the tone control completely with its mini-toggle and all frequencies will be sent to your amp.
The standard maple-shaft neck is a blend of old and new with a traditional style headstock and 22 frets in 25.5″ scale, a slim (modern) C profile and 12 inch radius. It is available with a Maple, Rosewood or Ebony fretboard. We can also do 24.75″ scale if you prefer. Default is right-handed but if you want a lefty guitar, just let us know!
Our modular pickup system is the ultimate in versatility letting you change pickups instantly in any combinations you want. Switch your 2-pickup T-style to a 3-single-coil configuration or dual humbuckers, or just one humbucker, anything you want. Use any pickups you want, active or passive, mix and match to find new and exciting tone combinations. Three cartridges give you six tone combinations, so it's like having six guitars in one! Order more cartridges and pickups and build your tone library like you never imagined you could.
Tone Blender standard features include:
22 medium-jumbo stainless steel frets, 25.5″ or 24.75″ scale, 12″ radius
Zero-fret system with TUSQ XL guide nut
Hipshot USA locking tuners
Alder body
6-way selector switch
Hipshot USA high-mass bridge
Qijack output jack
9V battery for active pickups
Dunlop USA Straploks
ABS hard case
We include three of our machined aluminum half cartridges, or one full cartridge and one half cartridge. Select "Three Half" or "Full Plus Half" under the default cartridges options. Either way we include two great Kent Armstrong single-coil pickups which can be P90, Humbucker, T-Style Neck, T-Style Bridge or single coil S-style. After you place your order we'll contact you to verify which pickups you want and to review any final details on your build.

 Video Description of Pickup Cartridges
Please visit the cartridges and pickups pages to order additional cartridges and pickups. Also visit the Guitar Upgrades catalog for additional options. Additionally, if you order the pickups from us (or send us your own) we will install and test them for you at no extra charge.
Current build time is 60-90 days, and the first orders placed will be the first to ship.
Additional information
| | |
| --- | --- |
| Body Color | Black, White, Electric Blue, Barcelona Red, Burnt Orange |
| Stripe | No Stripe, Racing Stripe, Pin Stripes |
| Fretboard | Rosewood, Maple, Ebony |
| Hardware | Chrome, Black, Gold |
| Neck Scale and Frets | 25.5" 22 Fret, 25.5" 24 Fret |
| Default Cartridges | Three Half, Full Plus Half |