Somnium Guitars. Unlimited tone possibilities.

Established in 2016 by Mark and Patty Stadnyk, Somnium Guitars aims to provide guitarists with countless options to expand their collection. Somnium debuted their prototype modular guitars at the 2017 WinterNAMM Show where they received a warm reception, and USA Today named them one of "The Top Seven Coolest Things At The NAMM Show". In 2021, Somnium Guitars headed to Nashville for Summer NAMM to showcase the now completely redesigned and refined product line which is continually being refined and perfected through the present day.
About Somnium Electric Guitars
Somnium guitars are designed to be the most versatile electric guitar ever made. They are premium quality hand-finished USA-built instruments where every feature has been carefully thought out to give you the most professional guitar experience possible. Every Somnium guitar includes:
Zero-fret premium neck for superior tuning stability and low action.

Reinforced neck pocket for a solid feel and great sustain.

Active + passive pickup capability (run both types simultaneously)

6-way selector switch for maximum dual or triple-pickup combinations

Slim 1-1/2" thin contoured body and contoured neck heel for comfort

Stainless steel hand-finished frets for low action and comfort

Top-quality tuning machines and bridges

USA electrical components from EMG and QiJack

Patented solder-less interchangeable pickup system for unlimited combinations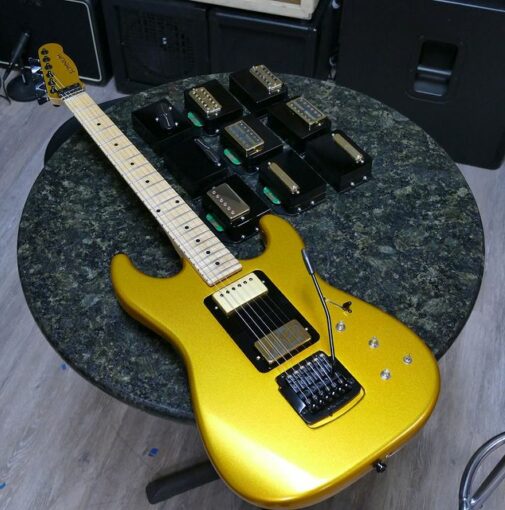 All of these premium features are standard, we can also customize your guitar the way you want it with select woods, colors and other features. Our modular pickup system can run one, two pickups or three pickups, any brand or type, single coil or humbucker, active or passive or both at the same time, neck or bridge in any combination, switchable in seconds. The tonal possibilities are truly endless. No other guitar in history has ever had this versatility.
Somnium Guitars are precision CNC machined and hand-finished for the utmost in playability and reliability.
USA Today named them one of "The Top Seven Coolest Things At The NAMM Show".
Tradition Meets Technology
Somnium guitars are traditional premium hardwood-built bodies and necks, enhanced with our professional modular components.
Shipping is free throughout the continental USA, and discounted worldwide. Enjoy low fixed shipping on other products.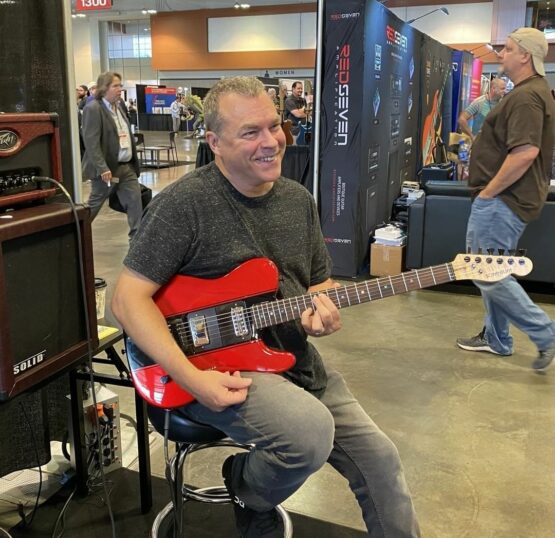 Pure Inspiration in a Guitar
When you pick one up, you have an instant bond with a familiar friend that is so comfortable, so smoothly playable that you know you have something special in your hands. The weight and balance, the low action, the fit and finish are such that you just can't help contain that grin on your face as you take it for a test drive. Soon you'll pause to look it over and realize that there is something very special on the back side. Something simple, but magical.
Yes, you can snap out your humbucker and snap in a P90 soapbar or a T-style pickup, just like that, bridge or neck position, however you want. Like plugging an amp into a wall socket, switching pickups is just that simple. Now you have entire new tonal dimensions to experiment with. You're basically creating a new guitar every time you switch the pickups, inspiring the way you play every time you pick it up.
Is a Somnium guitar going to replace your current guitar collection? Of course not, and that's not what we're trying to do. Our guitars are an exceptional addition to your arsenal of musical capabilities, a "secret weapon" for tone if you will. They play and feel like you would expect from premium guitar to be, but now you can instantly change that guitar's tone signature, its very character. That can make you a better player, and a more creative artist.
Your music has no limits, so why should your guitar? Use this site to examine our models and learn more about the Somnium guitar experience. See and hear them in action on our YouTube channel, Guitar Tone Central.