The best and brightest the guitar world has to offer.
Creating a great guitar requires some great people, and we believe that we've assembled the best the guitar world has to offer. That's a bold statement and we stand behind it.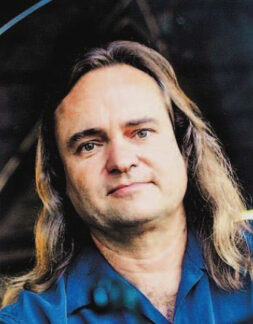 Over 25 years experience in manufacturing, design and fabrication. Holder of nine US utility patents including three for Somnium guitars. Started playing guitar as a teenager as well as doing mods and repairs on guitars and basses. Created the Somnium modular guitar system in 2016 spending five years on research, testing, development and refinement of the most versatile electric guitar ever created. Now used by world-class and award-winning musicians such as John Willis, Neal Schon and Bo Bice.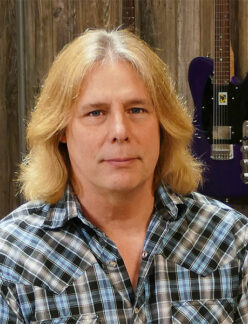 Over 40 years experience playing bass guitar and 15 years experience building guitars. Achieved national airplay as a member of 39Stripes.
Ray is in charge of all stock and custom guitar builds here at Somnium including design, shaping, fabrication, assembly, electronics, anodizing, neck finishing and testing.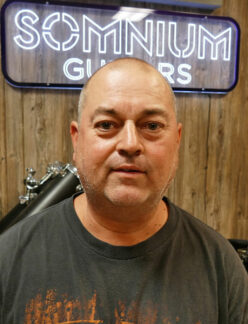 Over 35 years experience in automotive painting of award-winning customs, hotrods, classic cars and motorcycles.
Steve's passion for painting has expanded now to fantastic finishes on Somnium guitars where he preps each body by hand from sanding to filling and priming, then painting and buffing including custom multi-color and blended finishes.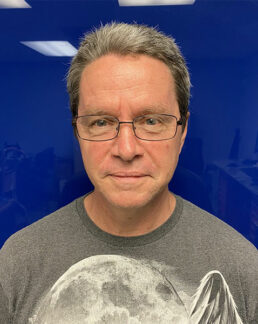 Gordon has over 30 years of manufacturing experience, both in machinery operation and repair as well as parts and fixture design.
At Somnium he creates the body shapes in 3D and makes sure our CNC machines cut all of our wood and metal parts perfectly.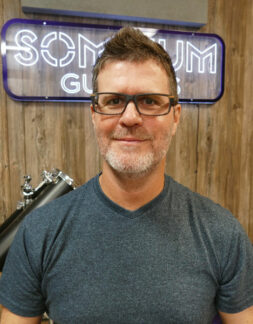 Blair is our marketing guy who supports Somnium's trade show presence, marketing initiatives, and e-commerce functions. He calls upon his experience in the music entertainment publishing space including The Grammys and the CMA Awards.
Blair is also the drummer for the Somnium house band and regularly collaborates with guitarists and other musicians.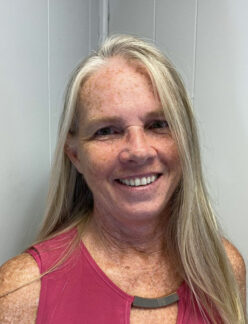 Patty is the finance and customer support behind the scenes at Somnium Guitars. She has more than 25 years experience in business, manufacturing, finance and customer service in multiple industries.
If you get a friendly female voice answering your call, that's her!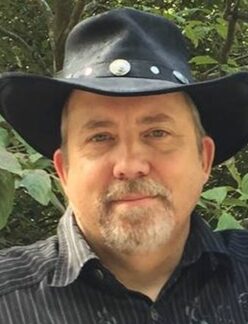 Scott Tucker is the owner and head luthier at PST Guitars in Virginia with more than 20 years experience building high-quality guitar and bass bodies and necks, also restoring vintage instruments and modifying production instruments. His extensive craftsmanship skills give Somnium the ability to customize neck specifications and profiles to produce a variety of hand-crafted necks to suit even the most discriminating player.