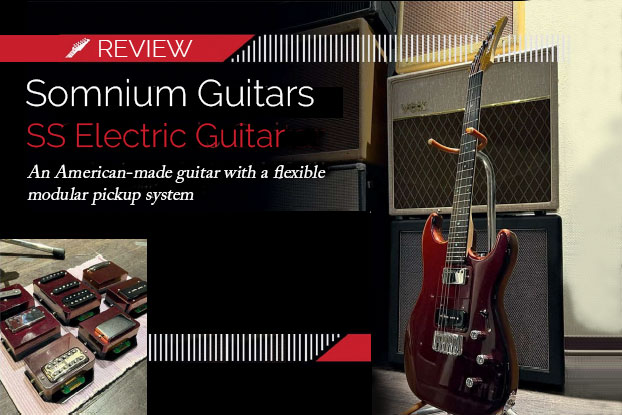 Recording Magazine Review – Somnium Guitars SS Electric Guitar
Florida-based Somnium Guitars is a boutique guitar builder centered around a modular pickup system. Somnium, which is Latin for "dream," currently offers three different base models: Mirage...
An American-made guitar with a flexible modular pickup system
Review by Alex Hawley in Recording Magazine, June 2022
Florida-based Somnium Guitars is a boutique guitar builder centered around a modular pickup system. Somnium, which is Latin for "dream," currently offers three different base models: Mirage (single-cutaway body), SS (Fender Stratocaster-style body) and TS (Fender Telecaster-style body). Each model has a range of semi-custom specs from which to choose when ordering. This allows one to play a body style and neck of their choice all built on a unique modular pickup system. Today's review is the SS model, paired with the full assortment of pickups to mix and match.
Overview: the Guitar
The review model I received is a "Strat• style" Somnium SS in a glossy-smooth "Fireball" finish with a maple neck and ebony fretboard. It feels very well-made, and features high-end hardware and fin­ishes throughout. The guitar came with a 25.5″ 24 fret neck, a slim C profile, and a 12″ radius. The body is made of alder and uses a Hipshot USA high-mass bridge, Hipshot USA locking tuners, a TUSQ XL Nut, Dunlop USA Straploks and ships with an ABS hard case. The pickup selector is a 6-way switch that adds even more tonal variety depending on the pickup configuration.
While the selling point of Somnium Guitars is undoubtedly the pickup sys­tem, it still has to be inspiring to play. And, for me, the SS checks that box. From neck shape to feel, everything is smooth and polished for a modern playing style. It has solid intonation and excellent action. I didn't run into issues anywhere on the neck, with buzzy frets or the action being too low. It plays great with plenty of sustain.
The 1 / 4″ jack felt a bit stiff based on my first impression, but Mark from Som­nium pointed out that this is by design, as it uses a robust stereo Qijack. The third contact in the stereo jack is used to turn the 9V battery power on when active pickups are in use. This config­uration makes it possible to transition between active and passive pickups on the fly, or even simultaneous mixing and matching. Clever design!
Customizable options include body color, including a racing stripe option; a 22 or 24 fret rosewood, maple or eb­ony fretboard finished off with chrome, black or gold hardware. Then comes pickup choice, which is where the fun truly starts with Somnium.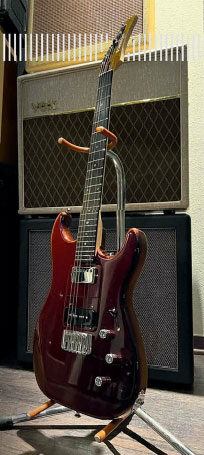 Overview: Modular Pickup System
The modular pickup system is built around machined aluminum ToneStorm cartridges. The cartridges pop in and out of the guitar's body from the back, making it truly hot-swappable. When no pickups are in place, there is a big gaping hole through the entire body. Changing a pickup takes a couple of seconds-no tools or reading of manu­als required! Roll off the volume on the guitar, pop the old cartridge out, and snap in a new one. In theory, it'd be very easy to change pickups between songs of a set or takes in the studio.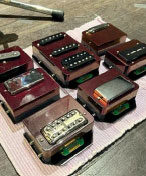 ToneStorm cartridges are compatible with just about any pickup on the planet, active or passive. Somnium even sells empty cartridges if you want to wire up your own assembly. If that's the case, there is no cutting or soldering required. I didn't test this, but fitting your own pickup with a ToneStorm cartridge looks very simple, needing only a mini screwdriver that is provided. Somnium even sells a handful of classic third-party pickups they can pre­assemble into a cartridge for you..
While hot-swapping pickups isn't an entirely new concept, the implementation ond execution found with Somnium is as elegant and straightforward as I've seen. It even allows the ability to get creative and experimental with non-traditional configurations. Wont to use a Lollar Tele neck pickup in the bridge position with a Kent Armstrong P90 in the neck position? Have at it. Or, swap them back around in about five seconds and off you go.
In Use
So, what does a Somnium SS Electric Guitar sound like? Well, what do you want it to sound like? It's difficult to concisely and accurately describe its sound because, like a chameleon, it will change its colors to fit your needs. Some pickups I particularly enjoyed were the RMI R66 and Kent Armstrong P-90. Especially when I let it rip with my 1980 Marshall JMP 2203-the P-90 felt right at home. It's a hard rock tone machine!
It's fun to experiment with pickups in unusual configura­tions-some of them look just wrong, like the classic Tele neck pickup in the bridge position. In most coses, if it didn't look right, it didn't sound right either. But, you don't hove to be adventurous to get great tones. Sticking with the standard Kent Armstrong 1962 Strotocoster single-coil configuration, the SS feels and sounds like a Strat should. However, with various flavors available, your inner-gear nerd will have a field day coming up with different ways to dress up this guitar.
What resonates most with me is the feet that swapping pick­ups doesn't intrude on the playing experience-it becomes as seamless as tweaking a setting on on overdrive pedal. The best port is that it doesn't rely on any digital modeling or bock­end compromises to transform the guitar's sound altogether. You get authentic, genuine tones, only limited by the number of pickups you will inevitably wont to purchase.
Closing Thoughts
I've thought a lot about for whom this guitar is designed. After getting my hands on it, I believe it to be on incredibly valuable tool for session players or studio owners-especially the lotter. A Somnium SS with a handful of pickup cartridges fills the role (with flying colors!) of a studio owner who doesn't wont to in­vest in five different high-end house guitars but wonts a solid option that con cover a lot of tonalities. If a session player or touring musician holds more of a 'purist' mindset, this likely isn't the avenue for them, and I completely understand and respect that. We, as musicians, spend our entire lives chasing the per­fect tone and building a guitar collection that we covet. A Som­nium doesn't replace that, and I don't think it's trying to either. Bottom line, a Somnium Guitar is on excellent tool delivering on its designed purpose: on easy-to-use and extensively flexible modular pickup system integrated with a well-built guitar.